Holiday in Pinzgau
Hotel Seisenbergklamm is surrounded by a breathtaking mountain backdrop, making it the perfect place to stay for hikers. Take advantage of the numerous hiking options - right on your doorstep. Explore new alpine pastures and peaks every day. You'll discover there are so many amazing things to do on a hiking holiday in Salzburger Saalachtal. Rustic alpine huts along the trails invite you to recharge your batteries with a hearty snack and regional delicacies. After the refreshment, you'll be reinvigorated to continue the hike. Below you'll find a list of the most beautiful alpine pastures in Weißbach, all of which can easily be reached from our hotel.
Almwander taxi
The Almwandertaxi is just the thing for all those who want to shorten the ascent to one of the many alpine huts or simply want to spend a relaxing day on the beautiful alpine pastures in Weißbach. The Almwandertaxi takes you to two interesting hiking spots, from where you can comfortably explore the Weißbach Nature Park. The Alpine taxi ride allows you to shorten your hiking tour up to the Ingolstädter Haus, the Steinernes Meer or the Passauer Hut, or just spend a relaxing day on the Kallbrunnalm alpine pastures.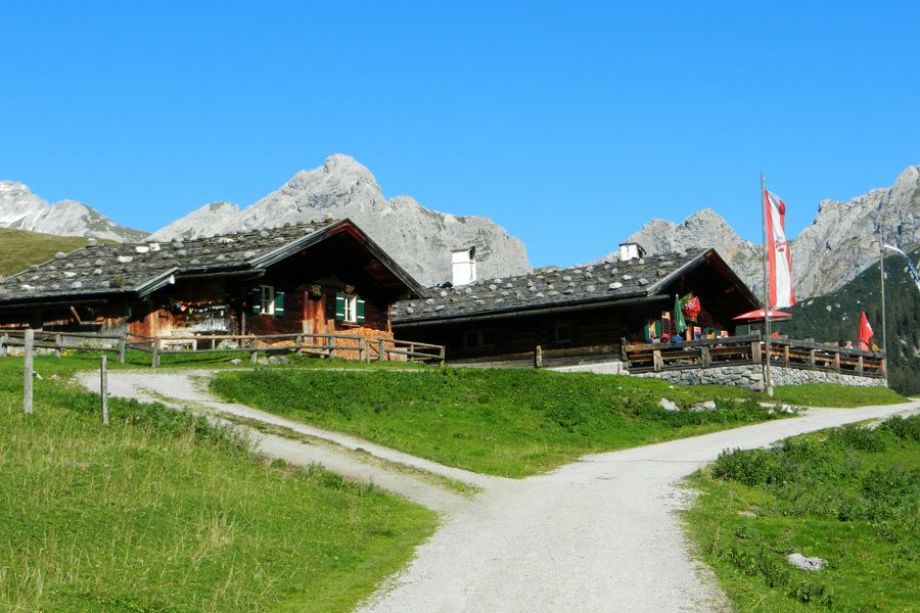 Kallbrunnalm
The rustic Kallbrunnalm snack station lies at 1,454 m above sea level and offers visitors traditional homemade cooking and freshly tapped beer. The rustic, cosy ambience and the sunny location will delight every hiker. From the Kallbrunnalm, you can continue along the trail to the nearby Diesbach reservoir where you can take a refreshing dip.
Litzlalm
The Litzlalm stretches between 1,200 and 1,600 m above seas level. Here you will encounter not only lush meadows and alpine huts, but can also marvel at the rugged mountain scenery of the Reiter Alpe mountain range. This unique landscape attracts not only hikers, but also artists, musicians and filmmakers to the Litzlalm. Fatigued hikers will be delighted with the tasty regional delicacies served at the Litzlalm snack station.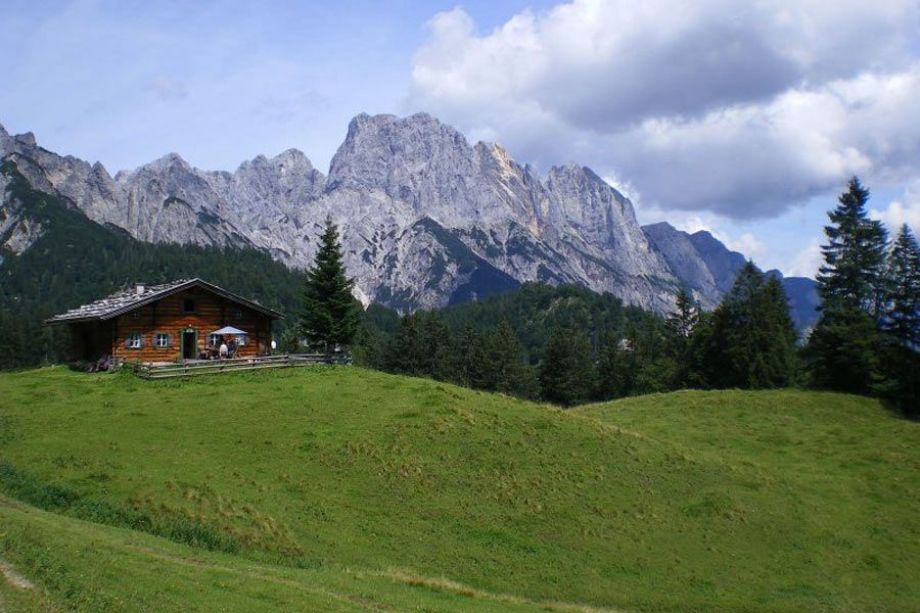 Kammerlingalm
The Kammerlingalm lies at the foot of the majestic Kammerlinghorn. The landscape is characterised by steep meadow slopes and runs for several kilometres along a road that was built by alpine farmers and the Bavarian State Forests in 1980. A must-visit for every hiker who loves the high mountain regions.
Almenwelt Lofer
The Almenwelt Lofer is one of the most beautiful alpine pastures in Austria. It can easily be reached with the Almbahn I and II. The Almenwelt Lofer is the starting point for seven circular hiking trails with four wonderful panoramic peaks. Its two reservoirs, the Almsee and the Rote Marmorsee are particularly beautiful.